Hi guys! I finally finished putting this blog post together, sorry for the long wait but wooow it took me forever! I'll save you the misery of my own pictures and will share the ones I got the inspo from in the first place lmao.
All recipes that don't have a recipe link are my own. Hope you enjoy them as much as I did!
MONDAY
Passion Fruit Chia Pudding
– 43g (1/3 cup) chia seeds
– 200ml (1 cup) plant milk of your choice
– 1 teaspoon vanilla
– 2 tablespoons maple syrup
– Pinch of sea salt
– 32g (1/4 cup) shredded coconut, toasted
– 2 passion fruits
1. Mix chia seeds with plant milk, vanilla, maple syrup, and sea salt. Store in the fridge for at least three hours or overnight.
2. Slice passion fruits in half, and scoop out all juice and insides (including seeds!) into the jar.
3. Top with shredded coconut and another splash of maple syrup
Recipe from: https://camillestyles.com/food/passion-fruit-chia-pudding/




Lentil Roasted Potatoe Salad
I saw this recipe on Instagram and felt like making my own version of it.
– 5 potatoes
– 60g (1/2 cup) of green lentils
– 1/2 beetroot, shredded
– 1 carrot, shredded
– Handful of a salad mix
– 5 cherry tomatoes
– 1 tablespoon of pumpkin seeds
– Coriander
– 2 tablespoons tahini
– Juice of 1/2 lemon
– 2 tablespoons apple cider vinegar
– 2 tablespoons plant milk
1. Cut the potatoes into wedges, put them in a bowl, season with olive oil and seasoning of your choice (I used some fries seasoning) and line them up on a cooking tray. Roast them at 180°C until they're crispy.
2. While the potatoes are in the oven, cook the lentils, shred the beetroot and carrot, cut the cherry tomatoes in half and mix it all together in a bowl.
3. Add the potatoes and lentils to the bowl, top with some fresh coriander and pumpkin seeds.
4. Mix together tahini, lemon, apple cider vinegar, plant milk, salt and pepper in a jar and use as dressing.
Inspiration from: https://www.instagram.com/p/CGsED0uHet0/




Curried Butternut Squash Red Lentil Soup
– 1 onion
– 3 cloves of garlic, minced
– 130g (1 cup) red lentils
– 1 can diced tomatoes
– 200ml (2 cups) vegetable broth (or you just use water with 2 teaspoons of Vegeta 😀 if you – know, you know)
– 1 butternut squash, diced
– Plantbased cream or coconut milk
– 1 teaspoon curry powder
– 1/2 teaspoon coriander
– 1/2 teaspoon cumin
– 1/4 teaspoon turmeric
– 1/4 teaspoon garam masala/tikka masala
1. Heat a little oil or broth in a large saucepan. Cook 1 chopped onion for about 5 minutes, or until translucent.
2. Add 3 cloves minced garlic and cook for 30 seconds more.
3. Add 1 teaspoon curry powder, 1/2 teaspoon coriander, 1/2 teaspoon cumin, 1/4 teaspoon turmeric, 1/4 teaspoon garam masala. Cook for 1 minute more.
4. Add red lentils (rinsed & drained), 1 can diced tomatoes, vegetable broth, and butternut squash (cut into small pieces). Bring to a gentle boil before reducing the heat. Simmer with the lid on for about 20 minutes, or until the lentils are cooked and the squash is just tender.
5. Blend until mostly smooth.
6. Stir in desired amount of plant cream or coconut milk until desired consistency
7. Add more broth, coconut milk, or non-dairy milk as needed.
8. Serve with rice or bread
Recipe from: https://www.instagram.com/p/CJqqPvypF9i/




TUESDAY
Reese's Overnight Oats
– 64g oats
– 178ml plant milk
– 2 tablespoons peanut butter
– 1 tablespoons ground flaxseeds
– 1/2 tablespoons cocoa powder
– 1 teaspoon maple syrup
– 1/2 teaspoon vanilla extract
– 1/2 tablespoons vegan dark choc chips
1. Mix everything except the chocolate chips and half the peanut butter in a bowl, cover it and refrigerate for a few hours or overnight.
2. When ready to serve top it with the extra peanut butter (thin it with water to make it drizzly) and the chocolate chips.
Recipe from: https://www.instagram.com/p/B5GTC3xAncR/




Rainbow Burrito
– Tortillas
– Plant Minced
– 1 ripe avocado
– Kidney Beans
– Black Beans
– Corn
– Plantbased cheese
– Sriracha Mayo
– Nachos/Tomato Rolls
– Salsa
– Taco Seasoning
– 1 Onion, diced
– 1 Lime
Listen to me … this is an EPIC burrito recipe, carefully curated over the course years by Fabian and I hahah. The sequence of things is important 😀
1. Fry the plant minced "meat" on the pan and season with taco seasoning
2. Prepare the guacamole: mix the mashed avocado, the diced onion and juice of 1 lime. Season with salt.
3. Warm the tortillas in the micro wave for 30 sec
4. Top the burrito in this sequence:
Coat the tortilla with the Sriracha mayo
Add plant minced "meat"
Add cheese
Add black and kidney beans
Add sweet corn
Add crushed nachos/tomato rolls
Add guacamole
Add salsa
5. Wrap it up and enjoy!




Crispy Buffalo Tofu Salad
– 1 block extra firm tofu
– 4 tablespoons vegan butter
– 4 tablespoons Sriracha sauce
– 1/2 cup bread crumbs
– 1/2 tablespoons garlic powder
– 1/2 tablespoons onion powder
– 1/2 tablespoons dried dill
– 1/4 cup all purpose flour
– Pinch of Cayenne pepper
– Pinch of salt
1. Slice the block of tofu through the side so you have two thin squares
2. Melt the butter, mix with Sriracha sauce in a bowl
3. Add bread crumbs, garlic, onion powder, dill, cayenne and salt in one bowl.
4. Add the flour to the other bowl
5. Add 1 slice of tofu to flour and dredge in it, coating it completely. Shake off any excess.
6. Put the tofu in the bowl with buffalo sauce. Coat completely.
7. Put the tofu in the bread crumbs and the crumbs onto the tofu to coat it completely.
8. Place tofu on baking sheet and bake for 10 minutes, flip and bake for another 10-15 more minutes or until it's brown, firm and crispy.
9. Make a salad of your choice + dressing
Recipe from: https://www.rabbitandwolves.com/vegan-crispy-buffalo-tofu-salad/




WEDNESDAY
Oatmeal Porridge
– 1/2 banana, mashed
– 50g of oats
– 30g of peanut butter
– 1 scoop of plantbased vanilla protein powder
– 10g of chia or flax seeds
– 100ml oat milk
– 50-80ml water
– Strawberries
– Frozen blueberries
– Seeds of choice
1. Mash banana and add to saucepan
2. Add oats, 20g of peanut butter (remaining 10g used for topping), seeds, protein powder and oat milk. Mix well and cook on medium heat. Let simmer for a few minutes, once it gets warm keep stirring until you have your desired consistency. Some like porridge more liquid, some more firm.
3. Top with peanut butter, strawberries and frozen blueberries. Add seeds of your choice, I added sesame and sunflower seeds. However, I do seed cycling, so depending on my menstrual cycle I switch seeds. Will post more about this later on.




Creamy Pumpkin & Sage Alfredo Pasta with Vegan Bacon
– 2 tbsp vegan butter
– 5 cloves garlic
– 1 heaping tbsp chopped fresh sage
– 1/2 cup pure pumpkin purée (I use tinned)
– 1/2 cup vegan cream cheese
– 1 cup unsweetened soy/oat milk
– 1/4 cup grated vegan parmesan
– 1/2 tsp sea salt
– black pepper
– 1-2 cups dried pasta of choice
1. Peel and mince garlic. Chop fresh sage leaves. Heat water for pasta and once boiling, add a few generous pinches of salt, dried pasta, and cook to al dente.
2. Heat vegan butter in a pan on medium/medium low. Once melted, add minced garlic and sauté for 1-2 minutes, then add chopped sage and sauté for another few minutes until fragrant.
3. Add pumpkin purée and vegan cream cheese and stir together until melted into a thick cream. Pour in non-dairy milk and stir until incorporated and smooth. Season with salt and pepper to taste, then sprinkle in vegan parmesan and continue to cook until melted, stirring occasionally.
4. When the pasta is cooked, drain water and add to the pan with the sauce. for saucier alfredo, start by adding about 1/2 of the cooked pasta and stir well until coated with sauce. Add more pasta as needed.
5. Serve up and top with crispy sage and bacon. Garnish with black pepper, some extra vegan parmesan and chopped fresh sage if you like.
Crispy sage & bacon:
– Vegan bacon
– Handful fresh sage leaves
– 1-2 tbsp vegan butter or olive oil
In a non-stick frying pan, heat butter or oil on medium, then fry bacon pieces for a few minutes until they start to get crispy. Add sage leaves (either whole or chopped) and fry until crispy, taking care not to burn.
Recipe from: https://www.instagram.com/p/CGfy1CnJxUg/




Creamy Thai Red Pumpkin Curry with Breaded Cauliflower
– 1 onion, chopped
– 1 tablespoon ginger, grated
– 4 cloves garlic, minced
– 1 red chili pepper, minced/deseeded
– 1 red bell pepper
– 3,5 cups cubed pumpkin
– 2,5 tablespoons Thai red curry paste
– 3 cups vegetable broth
– 3 tablespoons tahini
– 1 tablespoon tamari
– 1 tablespoon lime juice
– 1/2 teaspoon maple syrup
1. Heat 1 tablespoon olive oil (or a little veggie broth) in a large saucepan over medium heat.
2. Cook 1 small chopped onion for about 5 minutes, or until translucent.
3. Add 1 tablespoon grated ginger, 4 minced cloves garlic, and 1 small deseeded/minced red chili pepper, and cook for 30 seconds more.
4. Add 1 roughly chopped red bell pepper and cook for 30 seconds.
5. Mix in 3-1/2 cups cubed pumpkin (3/4-inch cubes, about 1 small) and cook for 1 minute more.
6. Add 2-1/2 tablespoons Thai Red Curry Paste and cook for 1 more minute.
7. Add 3 cups vegetable broth and stir.
8. Bring the broth to a gentle boil. Reduce the heat to a vigorous simmer and cook with the lid on for about 7 minutes, or until the pumpkin is fork tender.
9. Transfer one half of the pumpkin and broth to a blender. (Be careful not to include the bell pepper pieces.) Blend on high until smooth. Return the blended pumpkin and broth to the saucepan.
10. Stir in the 3 tablespoons tahini, 1 tablespoon tamari, 1 tablespoon fresh lime juice, and 1/2 teaspoon maple syrup.
11. Add more vegetable broth depending on desired consistency. Cook over low heat until warmed through.
12. Adjust the lime juice, maple syrup, and salt to taste. Garnish with chopped cilantro.
Recipe from: https://www.instagram.com/p/CG3JiJRpjz2/




THURSDAY
Porridge
Check Wednesday's porridge recipe




Stuffed Sweet Potatoe
Recipe from: https://www.instagram.com/p/CC4ROSeJ79_/




Falafel Nourish Bowl
I always just mix a bunch of vegetables I have left over together and buy a falafel mix to eat them with 😀




FRIDAY
Green Smoothie
See recipe in my green smoothie post




Creamy Spinach & Mushroom Gnocchi Soup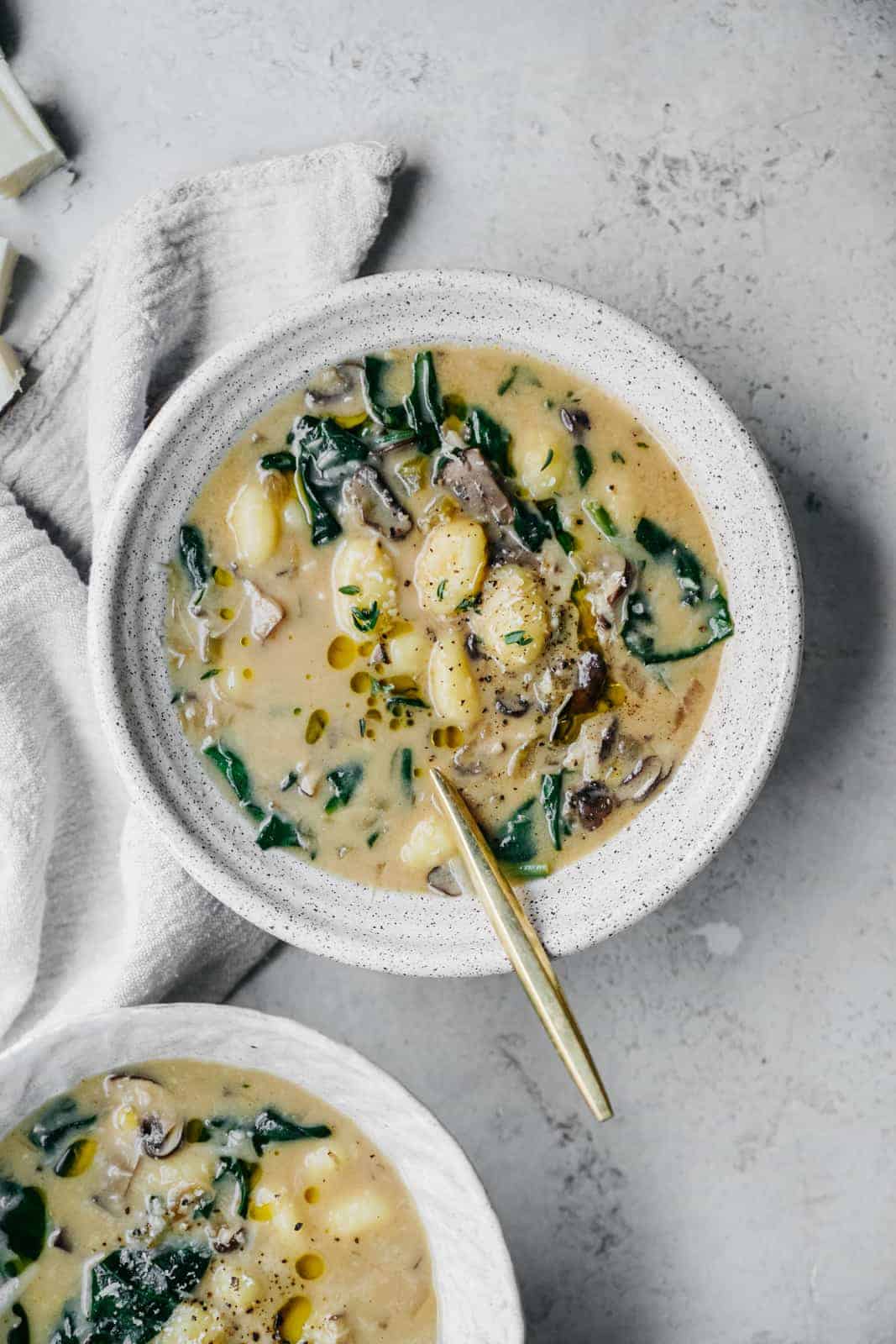 – 1 tbsp olive oil
– 1 medium-sized white onion, finely chopped
– 3 medium-sized celery sticks, finely chopped
– 3 large cloves of garlic, finely chopped or pressed
– 2 cups crimini mushrooms, sliced
– 1 tbsp. all-purpose flour
– 1 tsp thyme spice
– 1 tsp sea salt
– 1/2 tsp fresh cracked pepper
– 5 cups vegetable stock or 5 cups hot water and 1 tbsp. vegetable stock paste
– 2 – 2 1/2 cups potato gnocchi
– 1 400 ml can coconut milk – full fat, unsweetened
– 2 cups (packed) fresh kale or baby spinach
– 1 cup vegan parmesan
1. To a large stockpot at the olive oil and heat on low-medium for 30 seconds before adding onions and celery.  Cook them down for around 8-10 minutes, or until translucent, extremely fragrant and soft.
2. To the pot add the garlic and mushrooms.  Cook down for 10 minutes on medium-high heat.  Stir often to avoid burning.
3. Once your mushrooms have reduced by almost half, add the flour and still till the ingredients are all well coated. Add the thyme, salt and pepper to the pot and stir well. Increase heat to high and add vegetable stock.  Bring mixture to a boil then to a simmer.  Add gnocchi and cook for 5-7 minutes before adding coconut milk, spinach or kale and parmesan cheese.
4. Check for seasoning before enjoying it immediately.  Garnish with more parmesan and drizzling of olive oil!
Recipe from: https://www.foodbymaria.com/vegan-gnocchi-soup/




SATURDAY
Chocolate Protein Pancakes
– 1 banana
– 50g of oats
– 15g of flaxseeds
– A bit of apple cider vinegar
– A bit of baking powder
– 1 scoop of vegan choco protein
– 100-150ml of oat milk
– Peanut butter
– Strawberries
– Dark chocolate chips
1. Blend & form into pancakes on the pan
2. Fry in coconut oil for a couple of minutes
3. Serve with peanut butter, strawberries and dark chocolate chips




Cheesy Avocado Toast
– Vegan cheese
– Toast bread
– Vegan pesto
– Cherry tomatoes
– Salad blend
Make the sandwich, cut in half and toast in a sandwich press.
Recipe from: https://www.instagram.com/p/BwnFjz2AC0O/




Mac & Cheese Gratin
For the cheese sauce:
– 1/2 cup (112g) Vegan Butter
– 6 Tbsp All Purpose Flour
– 3 14oz (400ml) Cans Coconut Milk (1200ml in total)*
– 1 cup (240ml) Vegetable Stock
– 3 Tbsp Dijon Mustard
– 1 cup (60g) Nutritional Yeast
– 3 tsp Onion Powder
– 3 tsp Garlic Powder
– 1 and 1/2 tsp Smoked Paprika
– 1 and 1/2 tsp Salt
– 1 and 1/2 tsp Ground Black Pepper
For breadcrumb topping:
– 3 thick slices white bread, toasted
– 2 tbsp vegan butter, melted
1. Add the vegan butter to a pot and let it melt. When it's melted add in the all purpose flour and stir it vigorously with the melted butter.
2. Then pour in the cans of coconut milk and the vegetable stock. Use a hand whisk to whisk out the lumps. Keep whisking until it starts to boil and then keep whisking for a few minutes after it has boiled until it thickens. It will continue to thicken as it cools, so it doesn't have to be all the way there when you remove it from the heat, as long as it has thickened considerably from when you started.
3. Remove it from the heat and add in the dijon mustard, nutritional yeast, onion powder, garlic powder, smoked paprika, salt and pepper and whisk in. Now your sauce is ready, you can prepare your macaroni.
4. Cook your macaroni according to the package directions and then rinse and drain.
5. Add the cooked macaroni into the pot of sauce and toss it up with the sauce.
6. Then transfer the macaroni and sauce to a 9×13 baking dish and smooth down.
Preheat the oven to 400°F (200°C).
7. Prepare the crumb topping by breaking up the 3 thick slices of toasted white bread and placing into the blender. Pulse blend until you have crumbs. Then transfer to a mixing bowl, and add in the melted vegan butter and toss up the crumbs with the melted butter.
8. Place the breadcrumbs evenly over the top of the macaroni cheese.
9. Bake for 20 minutes until the topping is golden brown and crispy.
Recipe from: https://lovingitvegan.com/baked-vegan-mac-and-cheese/




No-bake Brownies
Watch the video from the link below:
Recipe from: https://www.instagram.com/p/CHKnzTgDfiY/




SUNDAY
Pancakes from Saturday
See recipe from Saturday




Poke Bowl
Picture from: https://simple-veganista.com/tofu-poke-bowl-recipe/
– Rice
– Tofu, diced
– Avocado, sliced
– Pickled Ginger
– Sriracha Mayo
– Sesame seeds
– Pineapple, diced
– Edamame beans
– Broccoli
– Carrots, sliced
– Cucumber, sliced
– Soy sauce
1. Boil the rice until sticky – I use a rice cooker. Once the rice is done, you can start arranging your poke bowl.
2. Add tofu, pickled ginger, pineapple, edamame beans, broccoli, carrots and cucumber in the bowl above the rice.
3. Add sliced avocado on top, sprinkle sesame seeds on top of it and splash some Sriracha mayo and soy sauce on top of the bowl.




High Protein Lasagne
See the recipe to my own high protein vegan lasagne



Lots of Love,
M.